About Us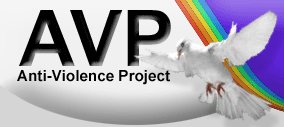 Victoria's Anti Violence Project is the peak GLBT community organisation leading discussion on violence and its impacts within and against the community.  We're volunteer based and not-for-profit, in our 16th year of operation, with the endorsement of the Australian Tax Office for Charity Tax Concession and are classed as a Charitable Organisation. We are a member of the National LGBT Health Alliance.
Dozens of people have participated in AVP activities, since we were founded, as board members and campaign developers and workers. Would you like to assist or get involved? Email us at vicavp@antiviolence by CLICKING HERE or call the VicAVP Executive Director on 0407664442 within Australia or +61407664442 internationally. Coming in 2012 will be access to AVP volunteers via telephone to assist in making violence reports and our new rural and regional campaign, AVP Connect is underway!
The AVP has been located at City Village, 8th Floor, 225 Bourke Street, Melbourne VIC 3000 and is looking for new facilities. We would like to acknowledge the kind donation of office space and facilities by the ALSO Foundation.